Vietnam 69-70
Dedicated to the men of the 173rd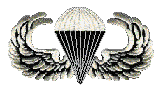 My first memories of Vietnam was arriving in country, and still on the airplane flying over the coast--looking down and seeing three boomerangs flying through the sky!! Wondering if our Goverment had discovered something new from the Australian outback. It was only later that I realized they were choppers with only one blade painted white!!

After landing, I found it disheartening that I would be going to the 173rd Airborne Brigade. Just before arriving in country I remembered seeing a news documentary on the 173rd asssulting hill 875 with bayonets fixed and thought ohh shittt!! "Why Me"
More Memories
LZ ENGLISH
The first thing you learned upon arriving at English, was the difference between outgoing and incoming! It didn't take long- after you were the only one that had hit the ground and every body else was standing over you laughing--making comments about the new guy, (cherry) you learned pretty fast.
DUSTER HILL
After thinking you knew it all, thrown in with a bunch of grunts from LZ Uplift ...Respected all of them... had to learn things all over-- like the most important thing was making the run to the ville just before sunset to pick up the girls!!!!!! Hope wife will understand it was before her time!!
FB ORANGE
Then moving to Orange, where I was only one of ten American's stationed there. The rest were all CIA types, ( spooks) in a nice way. They were all a little strange, even for 1969! ARVIN camp-- too many stories to go into on this page, maybe add a page later just for the time spent there!!
FB BEAVER
What can I say about Beaver!! "Memories" A lot! Located to the west of English across the mountains. One of the most secure base's that I'd been on, we had a duster on each corner of the base, and a radar that could pick someone crawling up to 1/2 mile away. We had a river running by that we could take a BATH once a day!!!Till the General flew over with a bunch of Donut Dollies!! That put a crimp in things for a couple of weeks. But that was also where my antennas got blown all to hell in a mortar attack
HOMECOMING
Arriving at LA Airport during the height of mini-skirt and see-through blouse fad!!! Almost missed my connecting flight to Miami---Had this BIG PROBLEM, had to sit down and believe it or not--had to think of rice paddies in order to make flight!!!
This is still under construction, if you have any stories E-Mail me and I will add them to the page



The following Poem by Steven Welch
173rd Airborne (DakTo-Hill 875)
Combat Jump
We loaded on the plane in the early morning dawn
Each in his own thoughts knowing it wouln't be long
Looking at each other across the planes floor
Hearing the planes engines start with a roar
Everyone was nervous not knowing what to expect
Waiting for the combat jump that was next
It seemed like an eternity for the red light to turn green
Then the plane doors opened for all to see
Out in the air you jump, then felt the chute deploy
Feeling the exhilaration as fear was void
Pulling on the risers in case a Viet Cong had you in his sights
Slipping to the right and then the left
Many chutes now filled the air
And your chances of survival seemed pretty fair
The fall to the ground was short and landing soft
Releasing the chute you looked for your group and took off
Walking across the field very fast
Not wanting to reach your company being the last
Tired and hot you hooked up with your squad
Then you took a moment and thanked God






Stephen Welch
Copyright April, 1998




NOT-SO-FOND MEMORIES
I will be adding more here,,, as my memory and conscience become clear
Driving to FB Orange, on some obscure dirt road, and having the snipper round come through the windshild, striking the metal plate between me and the Lt. sitting as shotgun. round narrowly missing both as it exited the right window
Seeing the first American dead
MILATARY LINKS
173rd Airborne Brigade (separate)Official home page of the 173rd airborne

Another 173rd Airborne Brigade Page!
HOME PAGES of 173rd VETERANS
Darryl Warner 1st & 6th Co.Royal Australian Regiment (Long Tan)

Craig Thompson Bravo 2/503rd (lz english)

Capt. Vic Marciano HHC Recon and Delta 1/503rd (67-68)

Gary Kozdron Bravo 1/503 (lz uplift)

James E. Hicks(link temp. broken)

Bruce "Skypilot" Donaldson Aviation-Door Gunner/75th Ranger's (LRRP)

Bud Harton 173rd assault helicopter company (link temp. broken)

Dee Smith 61st AHC LZ English

Stephen Welch Charle 2/503rd (DakTo)-(Hill 875 Vet) 67-68

Gaspar "Doc" Otero Echo 3/503rd Recon Platoon

Tom Mauritz 1st Cavaly Division 1965-1966/173rd Airborne Brigade 1967-1968

Jim Bradley E/17th Cavalry, !73rd Airborne Bde. 70-72
Last Modified on
05/11/04 12:00PM
I keep losing my counters, their have been 5,000 +
Free Counter
Vietnam 69-70 is a member of the
Want to join the ring? Get info Visit other sites in the ring now!
[Prev][ SkipIt ][ Next5 ][ Next ][List Sites] [ChatRooms]
Web-page Visitor - Communicate with Gary L. Creech by using this ICQ Web-Pager Panel
You can ICQ-Page the owner of this web page as well as other users right from here with no additional software. Your message will be instantly delivered. If Gary is online, the message will popup on his screen, if Gary is offline it will be stored and forwarded to him as soon as he connects to the internet. Installing the ICQ client will enable you to know if your peers are online and communicate directly with them.


Download and Install This Panel
Or you can view or sign my tripod home page guestbook
Thanks for visiting, feel free to check out some of my other pages.
HomeI My LifeI GrandbabyI LinksI ShrimpI My Music Store